Insane Labz is the latest supplement company to enter the market of hemp products with an all-new and rather unique formula named Strain. Like a lot of the brand's supplement, Insane Labz Strain is a pre-workout featuring a formula similar to some of its other pre-workouts but with hemp extract also in the mix.
The latest Insane Labz creation comes with a 6.8g blend made up of taurine, beta-alanine, tyrosine, betaine, the classic stimulant caffeine, AMPiberry, and alpha yohimbine. As mentioned, the product does also have hemp extract in the form of NEXTHemp, which is a branded THC free hemp from Compound Solutions.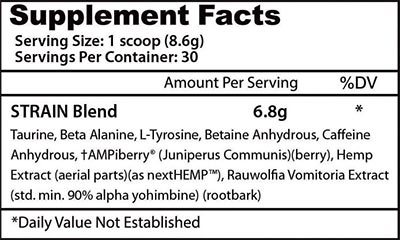 Insane Labz fans can now grab its hemp extract infused pre-workout Strain directly FitKint at $39.95 for 30 servings, with three flavors in Pineapple Express, Tropical Haze, and Blueberry Yum Yum.
Take Your Workout To A Higher Level - With STRAIN
You know that Insane Labz makes the best pre-workout supplements. Now, we're taking that reputation to the next level with Strain pre-workout, infused with nextHEMP.
NEXTHemp, the mood and recovery enhancing active ingredient in Strain
Does not contain THC
Is WADA approved
Has been shown to help speed recovery and reduce inflammation
Comes in 3 delicious flavors:
Pineapple Express
Tropical Haze
Blueberry Yum Yum