NOW Foods CurcuFresh, 60 Capsules
Curcumin Juice Complex
40X Strength!
NOW Foods Curcumin is the major component of Turmeric (Curcuma longa L.) and extensive scientific research on Curcumin has demonstrated its potent antioxidant properties. Through its antioxidant mechanisms, NOW Foods Curcumin supports colon & joint health, exerts neuro-protective activity and helps maintain a healthy cardiovascular system.

Turmeric is a valued herb and spice which contains the active component curcumin. This herb is subject to NOW Foods' usual strict specifications by which each lot of raw material is routinely tested for identity, potency and safety. The pharmaceutical nimesulide, a non-steroidal anti-inflammatory drug (NSAID), has been reported to be an unapproved adulterant in some turmeric products sold in Europe. Testing on NOW's turmeric has specifically looked for, but not detected, any contamination by nimesulide. NOW Foods follows Good Manufacturing Practices in proactively testing NOW Foods raw materials to ensure the integrity of our products.
PRODUCT DESCRIPTION
From Fresh Turmeric Juice
Solvent Free
40X Bioavailability
Curcumin from dried turmeric root extracts is known for its poor solubility and bioavailability. CurcuFRESH™ is prepared using only fresh turmeric rhizome that is never dried or extracted using solvents. As a result, curcumin remains in its native complexed form and, when ingested, leads to dramatically higher levels of beneficial, free, non-metabolized curcumin in the body (up to 40X as compared with standard curcumin extracts).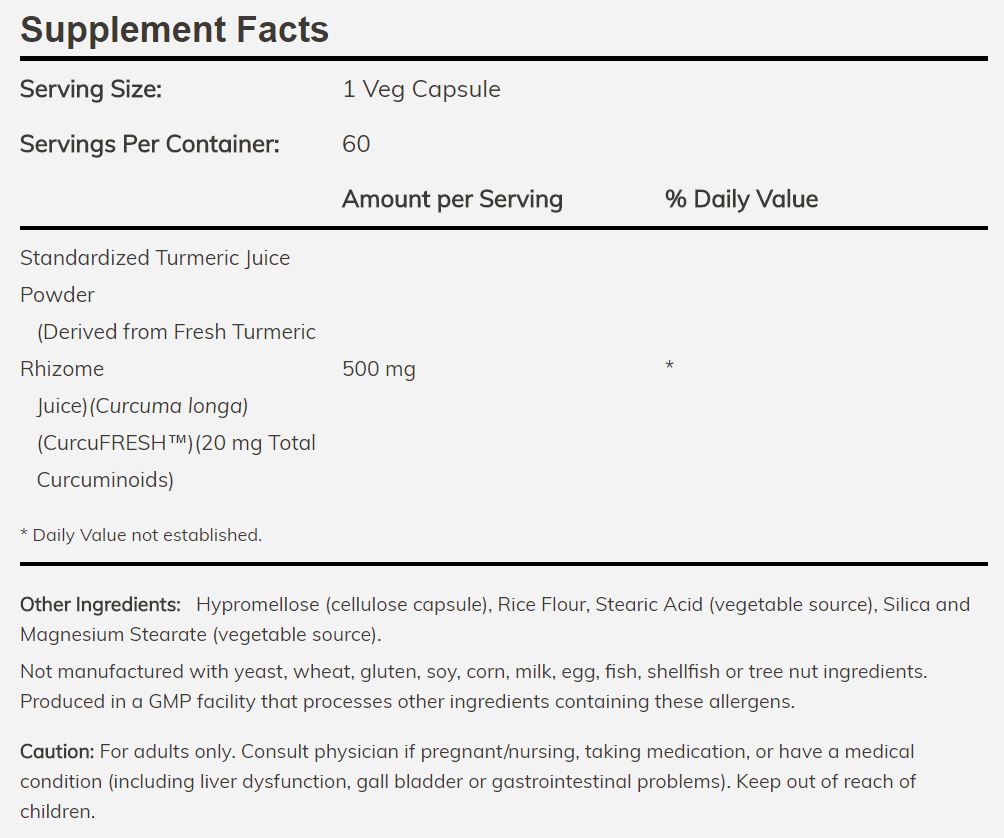 **Note: bottle may or may not have a gold top