Iron Mag Labs SUPER DMZ Rx 5.0
$
94.95
Vendor: Iron Mag Labs
Details
IronMag Labs Super DMZ 5.0, 60 Capsules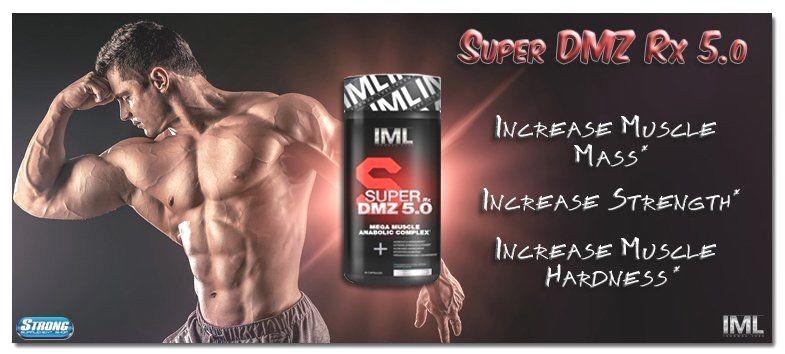 The #1 BEST SELLING ANABOLIC MUSCLE BUILDING SUPPLEMENT EVER MADE!


THE STRONGEST 100% LEGAL & DSHEA COMPLIANT MUSCLE BUILDER ON THE MARKET!
5TH GENERATION PRO-ANABOLIC MUSCLE BUILDING AMPLIFIER!
The ULTIMATE Anabolic Muscle Mass Builder on the Market Today!
• Extreme Strength & Power
• Increases Aggression
• Myostatin Inhibiting
• Prevents Estrogen Conversion
• Powerful Anabolic
• Significantly increases testosterone levels
• Displays potent anti-catabolic activity
• Increases mass & strength
• The most powerful ph on the market
• Improves energy levels, motivation, and the promotion of the alpha-male mentality
• Increases strength via multiple pathways
• Improves libido
• Enhances fat burning
• Decreases cortisol levels
• Improves immune function
• Increases insulin sensitivity
• Elevates mood/alleviates depression
• Increased follistatin production
• Decreased myostatin levels
• Increased protein synthesis
• Enhanced muscle strength
• Decreased systemic inflammation
• Improved cholesterol values
• Nutrient re-partitioning effect
• Improved overall metabolic health
• Elevated nitric oxide levels
• Heightened muscle pumps
• Increased nutrient delivery
• Improved blood oxygen carrying capacity
• Quicker recovery between sets via the accelerated clearance of metabolic waste products
• Reduced blood pressure
• Pro-sexual effects
• Enhanced glucose uptake
• Lift more weight for more reps
• Train longer without fatiguing
• Optimize estrogen balance
• Minimize unwanted estrogenic side effects
• Preserve prostate health
SUGGESTED USE:
As a dietary supplement, take one (1) to two (2) capsules two times daily in divided doses. Use in cycles of 4-8 weeks only, and take 8 weeks off in between cycles.